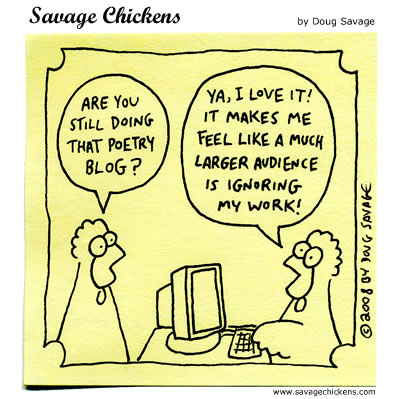 Desperate? Are you desperate to make your poetry blog a success? Are you desperate to get traffic to your creative writing blog? Do you want to have thousands of visitors to your blog? Do you want your blog to be in the top of the search results? Are you desperate to prove your existence on the Web, which apparently is through your passion? Let me guess, poetry?
Oh yes, poetry! When words fail, poetry speaks. But your poetry is hardly speaking on the Internet. You've a blog and it hardly gets visitors. You write your heart out and get no response in return. Am I right?
Why be sad then? Let me give you some tips and tricks as to how to make your poetry blog a success.


SEO - Search Engine Optimization

If you have a blog or website, then you won't wish to neglect SEO.

What is SEO and what has it to do with your poetry blog?

Whenever you enter a query in a search engine and hit 'enter' you get a list of web results that contain that query term. Users normally tend to visit websites that are at the top of this list as they perceive those to be more relevant to the query. If you have ever wondered why some of these websites rank better than the others then you must know that it is because of a powerful web marketing technique called Search Engine Optimization (SEO).

SEO is a technique which helps search engines find and rank your site higher than the millions of other sites in response to a search query. SEO thus helps you get traffic from search engines.
Internet is a vast realm . It is certainly applausible that you cannot wish your site gets the first place in the search results. Well, mine did.
How?
When you search 'deep love poems' on Google, the first result is none other that 'LOVE POEMS DEEP FROM THE HEART'.
If you think I've paid Google to get the first rank, let me tell you this is what desperate newbies think. But if you give it a little thought, you'll see my point.
The first place that I've achieved is for a particular keyword, not for every keyword relevant to poetry and poems.

1) KEYWORDS

On blogger, when you type a post, there's an option of 'Search Description'. If you're leaving it blank, it's one of the main reasons you're here.
In Search Description, you are eligible to mention the relevant keywords.
Keywords play a very important role in SEO. Keywords, simply put, are the words that we use to find a query on Search Engines. Apparently, you searched 'Blogging tips for poetry bloggers' and indirectly Google redirected to you here.

How to use keywords?

Consider you just have got a crush. You want to impress them with a poem. You certainly will search it on Search Engines like Google, Yahoo, Bing, etc.
What will you type in the search box? Let me read your mind - Love poem, deep love poem, love poem for a woman, lovely poem for crush.
Instead of saving anything in the Meta Keywords box, consider yourself in place of your reader. That's it! You've just learnt the basic technique of SEO. Ain't that easy?
For More Information of SEO, Read
Beginners Guide for SEO

2) Social Networking
One of the best source of getting traffic to your poetry blog is through social networks. Start up with a facebook page of your blog today, promote it and get a fanbase. Be in touch with your readers. Update regularly. Join random poetry groups on Google+ and Facebook and share your poetry in it. Share the link URL of your poetry blog.!
From time to time, you can post links in google plus communities.

3) POETRY FORUMS
There are numerous poetry forums on the Internet. Join any one of them, befriend with poets and let them know of the blog or site that you own. Include the link to your site in your signature.
One of the best poetry forums is family friend poems. You can also post on Reddit subreddits that are related to poetry.
4) Get backlinks via commenting on poetry and prose across the internet. Take note that to promote your blog/blog post, you comment the correct link.
Note - Don't go on commenting your link on irrelevant posts. Google penalises those links that are spammed.
You can also get a good amount of backlinks to your poetry blog by posting link on literary websites such as Reddit, Write-up Cafe, etc.

~ Tips and Tricks in a nutshell ~
1) Learn SEO and value its importance.
2) Keywords - Be consistent with one Keyword.
3) Create a platform of your poetry blog on Social Networking Sites.
4) Join Poetry Forums. Post on groups on social networking sites.
5) Update Your Blog Once or Twice A Week.
6) Write By Your Heart .


This was a short guide for poetry bloggers. I'll be back with more tips and tricks which made me get 10000 visitors daily in just one month, without paying any money or promoting on facebook or other social networking sites.
Subscribe to my blog by e-mail to be in touch with my recent articles.
Meanwhile, I'll be greatly obliged to hear what strategies you've applied to get traffic to your poetry blog..
Want More Help?
Read
Advice To Poetry Freshers
.
You can also check
How to write a love poem for her?